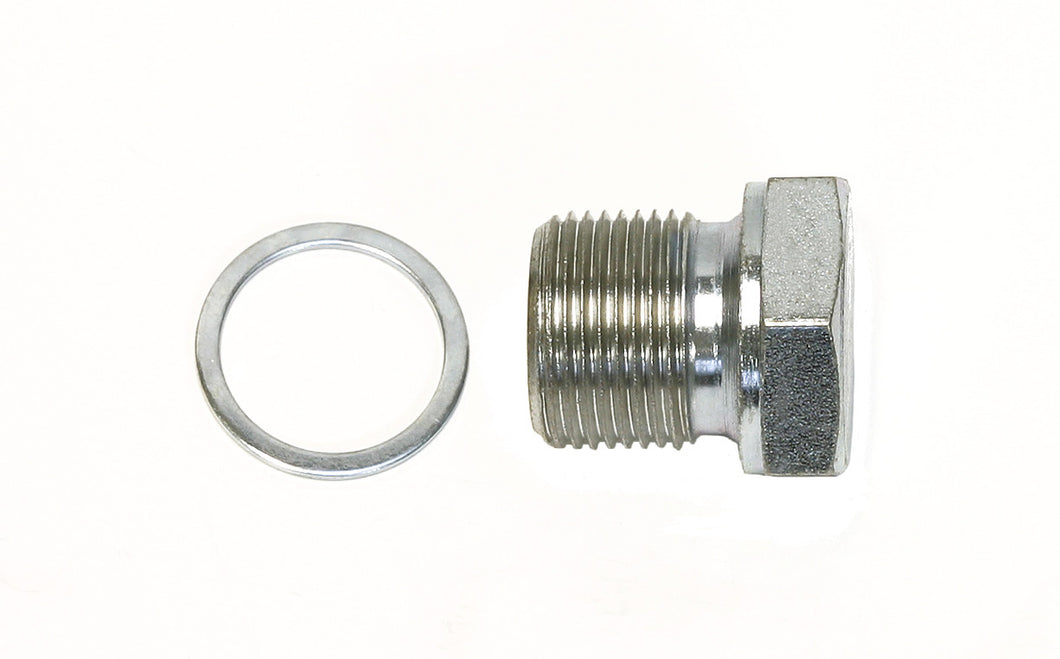 Header / Shoulder Plugs
Shoulder plugs or header plugs are made for plug type header boxes in air cooled heat exchangers/ fin fan air coolers. A shoulder plug and gasket are located opposite each tube which allows access for inspection and cleaning of individual tubes. Spare plugs and gaskets may be needed to replace originals during routine maintenance or used to plug leaking tubes.
Shoulder plugs are made of SA105, a material allowed by the pressure design code; however, we can manufacture plugs of other materials upon request such as titanium, stainless steel and brass. Shoulder plugs are typically zinc plates, but plugs can be supplied un-plated by request. Gaskets are made of soft iron and typically 1/16" thick. Special materials and thicknesses available upon request.
Common sizes listed below. Other sizes (not shown) are available.
Plug
Dia. 

Standard
UNF

Length
Under Head

Hex Size

Part Number

Gasket
Number

3/4"

16

5/8"

1"

JRRT27FFP3458

T27-G6

3/4"

JRRT27FFP3434

7/8"

JRRT27FFP3478

1"

JRRT27FFP341

1-1/4"

JRRT27FFP34114

7/8"

14

7/8"

1-1/8"

JRRT27FFP7878

T27-G7

1"

JRRT27FFP781

1-1/8"

12

3/4"

1-3/8"

JRRT27FFP11834

T27-G9

7/8"

JRRT27FFP11878

1"

JRRT27FFP1181

1-1/8"

JRRT27FFP118118

1-1/4"

JRRT27FFP118114

1-3/8"

JRRT27FFP118138

1-1/2"

JRRT27FFP118112

1-5/8"

JRRT27FFP118158

1-3/4"

JRRT27FFP118134

2"

JRRT27FFP1182

1-3/8"

12

3/4"

1-5/8"

JRRT27FFP13834

T27-G11

7/8"

JRRT27FFP13878

1"

JRRT27FFP1381

1-1/8"

JRRT27FFP138118

1-5/8"

12

7/8"

1-7/8"

JRRT27FFP15878

T27-G13

1"

JRRT27FFP1581